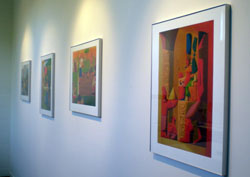 Prints

Giclee process prints are created on a 20" x 24" sheet of high quality Hahnemühle FineArt archival art paper, on an Epson Stylus Pro 7800. The printed image area ia approximately 16" x 20", leaving a border for custom matting/framing options.
Unframed prints are $100 each, which includes shipping. Currently available prints can be viewed in Gallery One. Click on the thumbnails to see larger view and add to PayPal cart.
Cards - Boxed set of 10 cards (blank inside) with envelopes

The story of Takara Bune is printed on the back of each card: "In Japanese folklore there is a group of supernatural beings popularly known as the Seven Gods of Bliss (or Fortune). They come from different parts of Asia, from different religions, and have been an important part of Japanese culture since the 15th century. These seven gods travel together on board a ship called Takara-bune, "boat of treasure". It is believed that, on New Years Eve, if you place a picture of the seven gods on Takara-bune under your pillow at night, a beautiful dream will reveal all of the good luck the new year has in store for you. Please feel free to explore this tradition by placing this card under your pillow on New Year's Eve."
$15 per box + shipping.